recent concerts
THE SEEN
Sunday January 25th 2015
3pm – 9pm
The Old Limehouse Town Hall
646 Commercial Road
London
E14 7HN
Entrance £10 on the door
Free Confront Recordings sampler CD with the first 30 tickets sold
ABJECT BLOC in association with Confront Recordings presents:
THE SEEN
David Toop – alto flute
Clive Bell – sho
Bertrand Denzler – saxophones
Yoni Silver – bass clarinet
Mark Wastell – harmonium, tam tam
Richard Sanderson – accordion
Phil Julian – electronics
Dimitra Lazaridou-Chatzigoga – zither
Angharad Davis – violin
Phil Durrant – violin
Graham MacKeachan – double bass
Dominic Lash – double bass
ABJECT BLOC DJ's:
Jon Hawken, " "[sic] VomiTimoV Goldie & John Wild plus special guests!
Enquiries : " "[sic] VomiTimoV Goldie Abject Bloc sarcomasign@gmail.com
SOLO at CAFE OTO
Thursday 5 February 2015
MUCKLE MOUTH & CAFE OTO PRESENTS:
PASCAL NICHOLS + L'OCELLE MARE + DIMITRA LAZARIDOU-CHATZIGOGA
Cafe OTO
8pm
"Great triple bill of artists pushing at the fringes, hosted by Muckle Mouth – a series of events drawing lines between folk and experimental artistic practice, bringing DIY artists, musicians, academics together in an informal setting."
More info here.
past concerts
2014
Festival Sound Disobedience
13.14.15. November 2014
Ljubljana, Slovenia
trio with Jennifer Allum (violin) and Ute Kanngieser (cello)
more details tbc
Saturday 27 September 2014
RE/WOT #1
MARTIN KUCHEN :: saxophone
www.martinkuchen.com
JOEL GRIP :: double bass
www.joelgrip.com
SEYMOUR WRIGHT :: saxophone
www.seymourwright.com
UTE KANNGIESSER :: cello
www.utekanngiesser.com
DIMITRA LAZARIDOU-CHATZIGOGA :: zither
www.strokebystroke.net
RE/WOT #1 is the first event of live music at St Augustine's Tower the oldest building in Hackney behind 354 Mare Street E8 1HR
8pm doors
tickets £8 at the door only
limited space //
reserve your ticket at
dimitra@strokebystroke.net
Thursday 18 September
Konzert Minimal concert
First UK performance by Konzert Minimal, the radical Berlin-based ensemble of experimental musicians, composers and sound artists. Members of the ensemble come together with five UK-based musicians to present compositions by Wandelweiser founder Antoine Beuger, and the highly-acclaimed young American composer Catherine Lamb, last seen in the UK at Glasgow's Tectonics Festival in January.
Antoine Beuger: meinong nonets (50 mins)
Catherine Lamb: areas of presence, material/highlight (40 mins)
Konzert Minimal musicians:
Johnny Chang (viola)
Catherine Lamb (viola)
Hannes Lingens (accordion)
Koen Nutters (double bass)
UK-based collaborating musicians:
Angharad Davies (violin) Bruno Guastalla (cello)
Dimitra Lazaridou-Chatzigoga (zither)
David Ryan (bass clarinet)
Yoni Silver (bass clarinet)
Cafe OTO
More info here
Saturday 23 August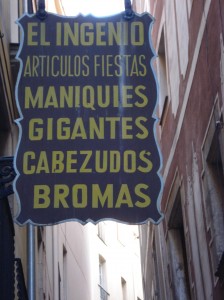 THE BARCELONA CONNECTION
Lali Barriere
Ferran Fages
Kostis Kilymis
and Eddie Prévost
OTO Project Space
Door times 6PM
Tickets £6 (on the door only)
more info here
Monday 18 August
"Debut London performances from three new ensembles spanning the full range of acoustic-electronic performance and comprised of some of the most exciting musicians currently working in the capital."
Dominic Lash / Dimitra Lazaridou-Chatzigoga / Phil Julian (trio)
Ute Kanngiesser / Clive Bell / Jennifer Allum (trio)
Stephen Cornford / Dan Bennett (duo)
Cafe OTO
Door Times : 8pm
Tickets : £7 adv, £9 on the door
More info/tickets here.
Saturday 12 July, 7:30pm
猫 ΓΑΤΑ
Dimitra Lazaridou Chatzigoga: zither solo
Daichi Yoshikawa: feedback with objects solo
2 solo sets will be recorded to be turned into a cd or LP
Hundred Years Gallery, 13 Pearson Street, London E2 8JD
More info here
Saturday 17 May
Confront Recordings presents
THE SEEN
John Butcher (saxophone)
David Toop (alto flute & electronics)
Benedict Drew (electronics)
Olie Brice (double bass)
Phil Durrant (violin)
Phil Julian (electronics)
Dominic Lash (double bass)
Dimitra Lazaridou-Chatzigoga (zither)
Richard Sanderson (accordion)
Mark Wastell (harmonium)
Suggested donation £5
13 Pearson street
London E2 8JD
Free entry
More info here.
Wednesday 14 may
in duo with Birgit Ulher
also playing Seymour Wright (saxophone) with Ute Kanngieser (cello)
Cafe OTO Project Space
6pm door times
Tickets: £5 on the door only
more info here
Wednesday 16 April 7.30pm
A Concert of Improvised Music
Eddie Prevost – percussion
Matt Davis – trumpet
Jennifer Allum – violin
Seymour Wright – saxophone
Dimitra Lazaridou-Chatzigoga – zither
Suggested donation £5.
Recital Room
Goldsmiths University of London
Room167, Richard Hoggart Building
New Cross, London, SE14 6NW, UK
BEFOREHAND: duo with Mark Wastell (harmonium, tuned percussion & electronics)
at the Launch concert for Angharad Davies' 'Six studies' (solo violin)
Hundred Years Galley
13 Pearson street
London E2 8JD
Free entry
More info here.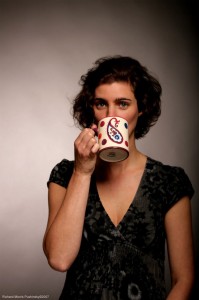 Thursday 6 March, 8pm door times
string trio with with Ute Kanngieser (cello) and Raed Yassin (double bass)
cafe OTO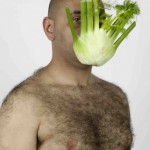 part of Raed Yassin's 2-day residency at cafe OTO
more info here
Friday 21 February, 6:45 door times
trio with Henrik Olsson (objects and electronics) and Daichi Yoshikawa (feedback)
also playing: Guillaume Viltard (doublebass): 7 pictures of a bass
OTO Project Space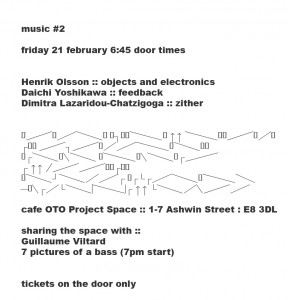 BOAR collective and friends
(Hannah Marshall, Dimitra Lazaridou-Chatzigoga, Kostis Kilymis, Tom Mudd, Gail Brand)
Three Day Workshop and Concert Series
In residence at Cafe OTO
February 7th-9th, 2014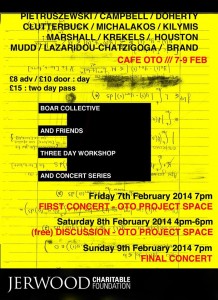 acoustic duo with Phil Durrant (violin)
Sprawl x-mas concert
Thursday 12 December
part of the 'NOISE & whispers' exhibition at www.gvart.co.uk
more details to follow
solo
Hideous Porta 8: Christmas All-dayer
Sunday 15 December
Free Entrance / Doors: 3pm
Ryan's Bar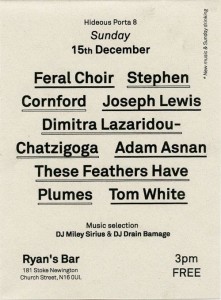 Wednesday 23 October, Stockholm, Fylkingen
Thursday 24 October, Västerås, Culturen
Saturday 26 October, Umeå Jazzfestival
second half of Sweden tour with Angharad Davies, Axel Dörner and Henrik Olsson
Saturday 19 October
SARU and Compost and Height present music by Michael Pisaro and Makiko Nishikaze.
The Round Chapel Auditorium, London. Supported by Cafe Oto.
Friday 27-Sunday 29 September
humanoise festival
Wiesbaden, Germany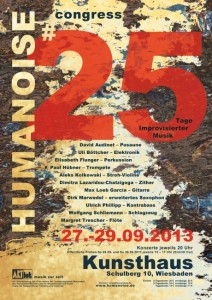 Friday 4 October, 6pm
trio with Daichi Yoshikawa (feedlback) and Grundik Kasyansky (electronics)
also playing: Jennifer Allum (violin) with Paul Abbott (drums)
OTO Project Space
Tuesday 17 September, Göteborg. 3e våningen
Wednesday 18 September, Växjö, Konsthallen
first half of Sweden tour with Angharad Davies, Axel Dörner and Henrik Olsson
Thursday 19 September, Malmö, TBA
duo with Martin Küchen
Friday 5 July | 07.30pm
Music We'd Like to Hear 2013 – 1
SOME TUNES
part of the MWLTH ensemble performing:
CRAIG SHEPARD Four Voice Canon
KUNSU SHIM Buch
EVA MARIA HOUBEN some tunes
JOHN WHITE Newspaper Reading Machine
MIEKO SHIOMI Wind Music
DANIEL JAMES WOLF The Long March
Curated by Markus Trunk
£9 (£6 conc)
Church of St Mary-at-Hill (2 minutes from Monument tube)
Eastcheap, London EC3R 8EE, UK
duo with Grundik Kasyansky
Saturday 22 June
aural detritus concert series
Brighton, UK
blurred edges festival
Hamburg, Germany
Friday 3rd May 21:30
solo zither
blurred edges – high definition 1
Saturday 4th May 21:30
blurred edges – h7 club
Dimitra Lazaridou Chatzigoga : zither
Sebastian Lexer : piano+
Seymour Wright : alto saxophone
Birgit Ulher : trumpet, radio, objects, speakers
Heiner Metzger : soundtable
Michael Maierhof : cello
Gregory Büttner : computer, objects, loudspeakers
Thursday 4th April 20:00
solo zither
Café OTO


Friday 8th March
solo concert
house concert
Newcastle, UK
Saturday 9th March 7.30pm
The empty set
Marjolaine Charbin – piano
Dimitra Lazaridou Chatzigoga – zither
Neil Davidson – guitar
Rhodri Davies – harp
Mariam Rezaei – turntables
Glasgow University Concert Hall
First concert by The Empty Set performing free improvisation and compositions by members of the group. The Empty Set was originally put together to record music by Mieko Shiomi, James Saunders, Sam Sfirri and Sarah Hughes for the Another Timbre label in 2012, with several of their recordings featured on the critically acclaimed Wandelweiser und so weiter box set. This is the first performance with this (slightly altered) line up. The concert is co-produced by Never Come Ashore and Music in the University, and funded by the University's Chancellor's Fund. Free entry.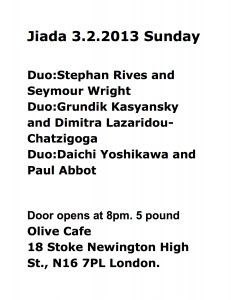 Jiada 03.02.2013 Sunday, door opens at 8pm
Olive Cafe, 18 Stoke Newington High St., N16 7PL London
duo: Stephane Rives and Seymour Wright
duo: Grundik Kasyansky and Dimitra Lazaridou-Chatzigoga
duo: Daichi Yoshikawa and Paul Abbot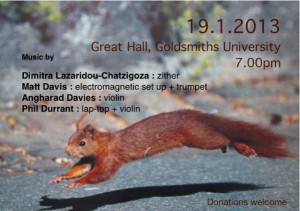 19 January
duo with Phil Durrant
quartet with Angharad Davies (violin), Matt Davis (trumpet), Phil Durrant (violin)
Goldsmiths
London, UK
2012
15 December
ap'strophe
com a mínim festival
Barcelona, Spain
26 November
workshop series at Café OTO
Ute Kanngiesser / cello
Sue Lynch / saxophone
Dimitra Lazaridou Chatzigoga / zither
Guillaume Viltard / double bass
Artur Vidal / saxophone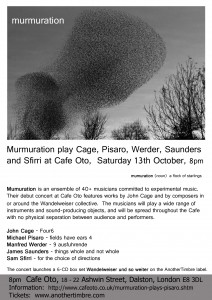 13 October
Murmuration play Pisaro, Cage, Saunders, Werder & Sfirri
Café OTO
London, UK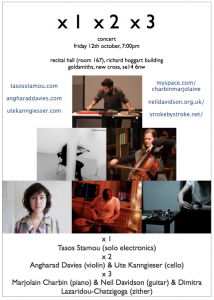 12 October
x1x2x3
x1
Tasos Stamou (solo electronics)
x2
Angharad Davies (violin) & Ute Kanngiesser (cello)
x3
Marjolaine Charbin (piano) & Neil Davidson (guitar) & Dimitra Lazaridou-Chatzigoga (zither)
Goldsmiths
London, UK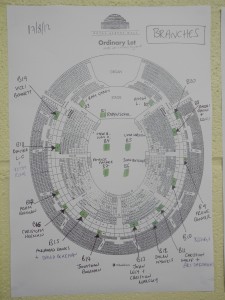 17 August
BBC Proms
Prom 47: Cage Centenary Celebration curated by Ilan Volkov
playing 'But what about the noise of crumpling paper …' for 10 players and 'Branches'
Royal Albert Hall
London, UK
12 August
solo zither
Café OTO
London, UK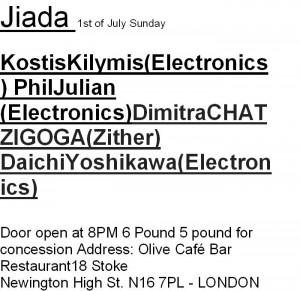 01 July
Jiada
duo with Daichi Yoshikawa
Café Olive
London, UK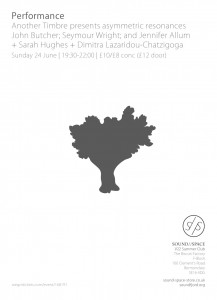 24 June
Asymmetric Resonances, a night curated by Simon Reynell (Another Timbre)
trio with Jennifer Allum (violin) and Sarah Hughes (zither)
08 June
duo with Tasos Stamou
Kukuruku Recordings presents Tasos Stamou and Dimitra Lazaridou-Chatzigoga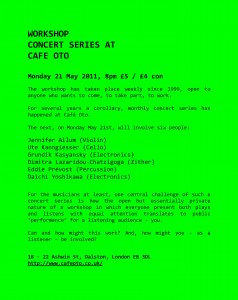 21 May
workshop series at Café OTO
with
Jennifer Allum (violin)
Ute Kanngiesser (cello)
Grundik Kasyansky (theremin/electronics)
Eddie Prevost (percussion)
Daichi Yoshikawa (electronics)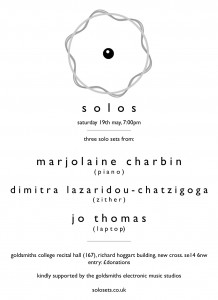 19 May
solo in London
http://solosets.co.uk/
12 May
solo in Cambridge
04 May
trio with Daniel Jones and Paul Khimasia Morgan
aural detritus concert series
Brighton, UK
07 April
ap'strophe
Naxos Bobine
Paris, France
05 April
duo with Tasos Stamou
Kukuruku event
Cafe OTO
London, UK
24 March
duo with Grundik Kasyansky
concert with live drawing
Tooting, London, UK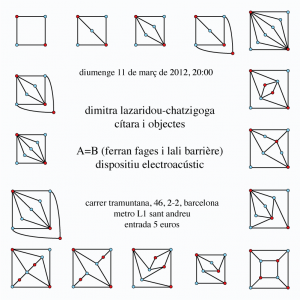 11  March
solo house concert
taller Tramuntana
Barcelona, Spain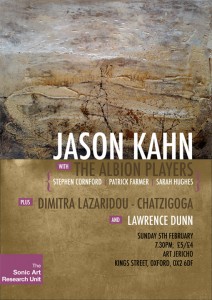 05 February
solo
Oxford, UK
2011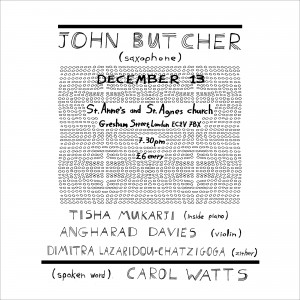 13 December
trio with Angharad Davies and Tisha Mukarji
St Anne's and St Agnes church
London, UK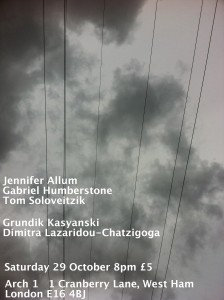 29 October
duo with Grudik Kasyansky
quintet with Grudik Kasyansky, Tom Soloveitzik, Jennifer Allum, Gabriel Humberstone
Arch One
West Ham, London, UK
05-06 July
solo and in different groups
Festival Personal and Collective
Ljubljana, Slovenia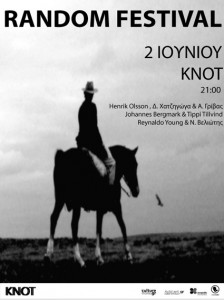 02 June
trio with Anastasis Grivas (prepared guitar) and Henrik Olsson (percussion)
Random Festival
Athens, Greece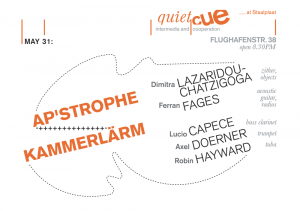 31 May
ap'strophe meets kammerlaerm (Lucio Capece, Axel Doerner, Robin Hayward)
quiet cue #058
Berlin, Germany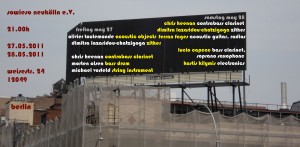 28 May
ap'strophe with Chris Heenan (contrabass clarinet)
sowieso
Berlin, Germany
27 May
duo with Olivier Toulemonde (acoustic objects)
sowieso
Berlin, Germany
2010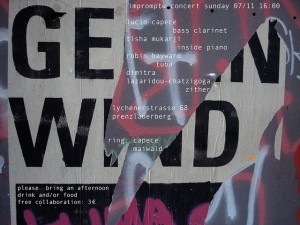 07 November
quartet with Lucio Capece (bass clarinet), Tisha Mukarji (inside piano), Robin Hayward (tuba)
house concert
Berlin, Germany
22 and 24 September and 08 October
solo performance 'temporary landscapes'
exhibition Locus Solus
Benaki Museum
Athens, Greece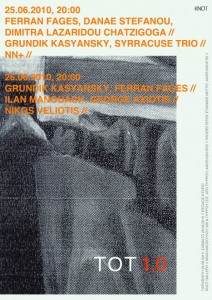 25 June
trio with Ferran Fages (electronics) and Danae Stefanou (piano)
TOT 1.0 festival
KNOT Gallery
Athens, Greece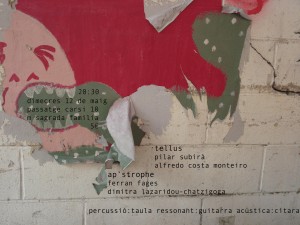 12 May
ap'strophe + tellus
with Ferran Fages (guitar), Alfredo Costa Monteiro (resonant table) and Pilar Subirà (percussion)
Barcelona, Spain
26 April
with dancers Danae Stefanou, Vasiliki Tsangkari and Patrick Belaert
Wrong Movement Dance studio space
Athens, Greece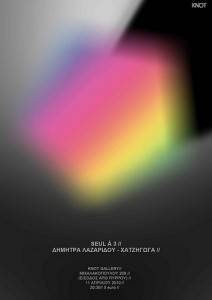 11 April
solo zither
KNOT Gallery
Athens, Greece
01 April
ap'strophe with Christine Sehnaoui (alto saxophone)
L'Espace En Cours
Paris, France
31 March
ap'strophe
Festival PiedNu
Le Havre, France
07 March
4-6 people sextet
with Danae Stefanou (piano), Giannis Kotsonis (electronics), Anastasis Grivas (prepared guitar), Margarita Kourtparasidou (percussion) and Alcxis Porfyriadis (synth and objects)
KNOT Gallery
Athens, Greece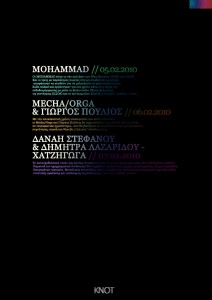 07 February
duo with Danae Stefanou
KNOT Gallery
Athens, Greece
19 January
VMM: Various Material Management: sound and movement improvisations
with Benjamin Weidekamp (clarinet), Giannis Kotsonis (electronics)
Margarite Papazoglou, Olia Lydaki, Nikoletta Xenariou (dance)
KNOT Gallery
Athens, Greece
2009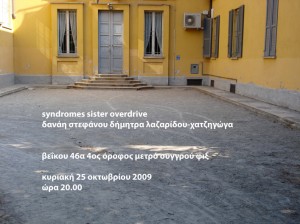 25 October
syndromes sister overdrive
Danae Stefanou & Dimitra Lazaridou-Chatzigoga
Veikou 46A
Koukaki, Athens, Greece
21 June
ap'strophe
taller Tramuntana
Barcelona, Spain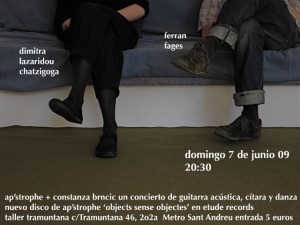 07 June
ap'strophe with Constanza Brncic
taller Tramuntana
Barcelona, Spain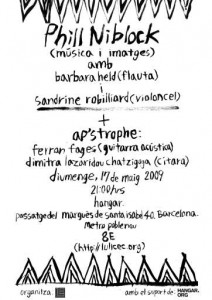 17 May
ap'strophe
opening act for Phill Niblock
Hangar
Barcelona, Spain
2008
house concerts across Barcelona [spring-summer 2008]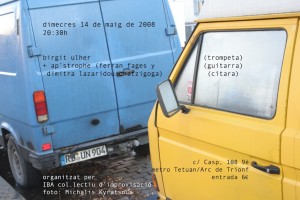 04 May
ap'strophe with Birgit Ulher
[IBA col·lectiu  d'improvisació concert # 176]
Barcelona, Spain
27 January
quartet with Ivan Palacký, Alfredo Costa Monteiro, Ruth Barberán [IBA col·lectiu d'improvisació
 # 173]
2007
20 November
autoharp in duo with Ferran Fages
collaboration at the presentation of Ferran Fages' cd Cançons per a lent retard